Data Backed by Experian
AutoCheck® has industrial-strength data backed by Experian, the global market leader in information services. This means we offer customers just like you the same exceptional data reliability and use the same expert business rules that industries around the world trust to get the insights they need to make the best decisions.
When you purchase an AutoCheck® vehicle history report from Experian, you can rest easy knowing that you are using the report that automotive industry experts rely on daily to get the information they need to buy and sell the most trusted vehicles.
Make a better buying decision with industrial strength data from Experian Automotive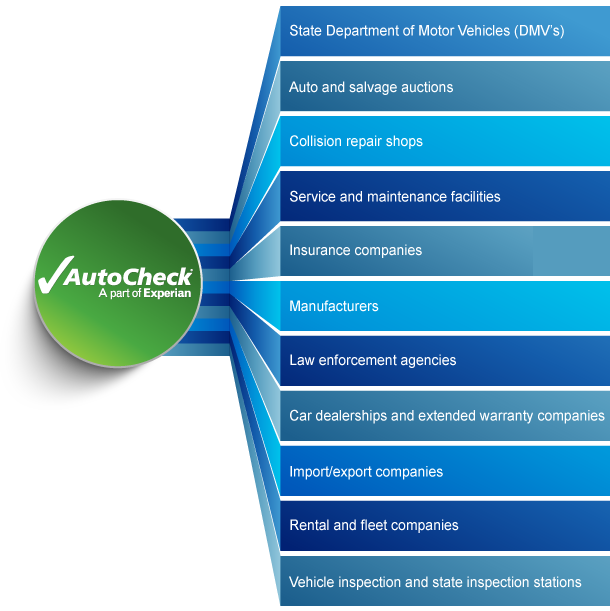 AutoCheck's Unique Data Sources
Make a better used car buying decision with industrial strength data from Experian Automotive.

State Department of Motor Vehicles (DMV's)

Identify important issues like title problems, accidents, or potential fraud that may help you uncover problems.

Branded titles, including salvage/junk, flood, hail, storm, fire damage and more
Manufacturer buybacks or lemon titles
Odometer rollback or not actual miles
City and state of previous registration, number of owners
Accidents and damage reports, stolen vehicles
Rental , taxi, lease, or government use

Auto auctions

Find a reliable vehicle that has been through the auction inspection process.

Low odometer readings
Structural or frame damage

Salvage auctions

Collision repair shops

Service and maintenance facilities

Insurance companies

Manufacturers

Law enforcement agencies

Car dealerships and extended warranty companies

Import/export companies

Rental and fleet companies

Vehicle inspection and state inspection stations

See if the vehicle passed emissions and safety testing.

Odometer readings
Location of inspection site
Emissions records
Safety inspection factors
FREE Vehicle Search: Enter a VIN or Plate
Two ways to find the vehicle history you're looking for: